Lee St. John is a she-devil with a halo, a Southern Belle who doesn't play by the rules, and a prankster setting her next trap. Like a train-wreck, we can't turn away from the mayhem she inflicts. She just dares to differ.  In her defense, though, she was left unsupervised.
Her newest book of shenanigans – SHE'S A KEEPER! ~ Cracked Compositions from a Southern Girl's Classroom are true but wacky vignettes by teachers, for teachers, and about teachers from every grade level. She's spilling all the stories from the elementary, middle, high, and college classrooms you aren't supposed to tell. 
While most of Lee's roguish memoirs are inspired by the family funnies of Erma Bombeck, by the down-South flavor of humorist Lewis Grizzard, by the honesty of Ali Wentworth's entertaining memoirs, and by the inappropriate frisky behaviors of any SEINFELD episode, she also expresses sentimental anecdotes. The mementos found in her closet, attic, basement, and even her former school classroom unleash her secrets about mothers, husbands, former boyfriends, children, friends, jobs, families, students, and more. She rats on them all.  But she also rats on herself. She calls it "equal opportunity snitching". Her confessions may unleash your hidden memories, too. Get ready to be amused.
Lee has published 5 books and 2 author-narrated audio books of the same series: SHE'S A KEEPER! which may also be purchased on Amazon. She keeps busy with her writing, her cable Alabama TV show, her column in the Newnan Times-Herald in Georgia, her blog, her speaking engagements, and her guest columns in various magazines and publications. 
She continues to rank #1 on Amazon's Best Sellers under Humor & Entertainment Essays Kindle e-books short reads.
Lee attended Georgia Southern University as an undergraduate in Communications (journalism, marketing, advertising, public relations) and Georgia State University and the University of Georgia graduate schools in Gifted English education. She is a born and bred Georgia Peach and an adopted Alabama camellia. She has been married for 34 years (lots of material to write about!) and has 2 unmarried millennial sons (ditto!).
And then there's OBie – her looks-like-a-tater-tot-rescue.
Boo wonders WHAT OBie is doing.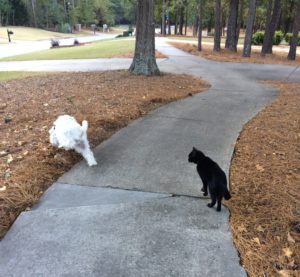 Oh, and Lee LOVES to laugh.
CONNECT WITH ME!
Facebook: https://www.facebook.com/leestjohnauthor
Instagram: https://instagram.com/leestjohnauthor/
Website: http://www.leestjohnauthor.com/
Twitter: @LeeStJohnauthor
Newspaper: Newnan Times-Herald Contributor
Television & Radio: WAXC-TV Alabama Charter Cable Network; 97.5 FM
Kowaliga Radio
Blog: www.leestjohnauthor.com/
https://www.goodreads.com/author/show/14343509.Lee_St_John/blog
Pinterest: LeeStJohnAuthor